Books

We first published 12 Hours of Sebring 1970 in 2004. Since that time we have sold thousands of copies of the book to racing fans all over the world. And, we have received wonderful reviews from magazines including this one from Thos. Bryant, the iconic editor of Road & Track, who said:
"Every now and then a truly special book comes along, and this is one of them. The photos are excellent and the quotes from many of the participants provide insights that make the race come alive….One of the best racing event books I've ever read…This truly is a remarkable work."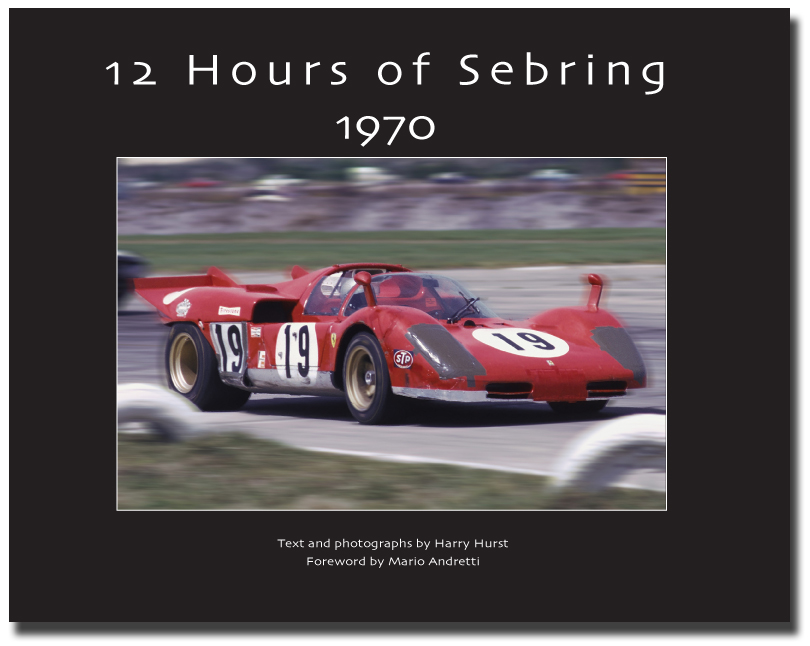 We have expanded and updated the original content with eight new contributors, more than 50 new photographs, and more than 70 additional pages. Owners of the first edition will find this new version an even fuller remembrance of this historic race.
On March 21, 1970, the greatest drivers and race cars in the world gathered at an old WW II airfield in the middle of the Florida orange groves to participate in the 12 Hours of Sebring. Drivers like Andretti, Gurney, Ickx, Redman, Rodriguez, Siffert, Parkes, Elford, Cevert. Cars like the Porsche 917, Ferrari 512, Matra 650, and the Alfa Romeo T-33.
Little did they know they were about to participate in what many have called, "one of the most exciting endurance races ever." Against the might of the factory teams, an out-classed Porche 908 driven by Peter Revson and Steve McQueen suddenly found itself in a position to win the race. What transpired at the end of the race is now part of motor racing legend. This book will take you on a trip back in time as the story of this memorable race is told through photographs and the remembrances of the people who were there: Mario Andretti, Vic Elford, Dick Fritz, Louis Galanos, Dan Gurney, Ford W. Heacock, George Nettles Jr., Sam Posey, Bobby Rahal, Brian Redman, Jennifer Revson, John Smiley, Wayne Sparling, Paul Spruell, Edward Ulmann, and Bill Warner.
Here are three sample spreads: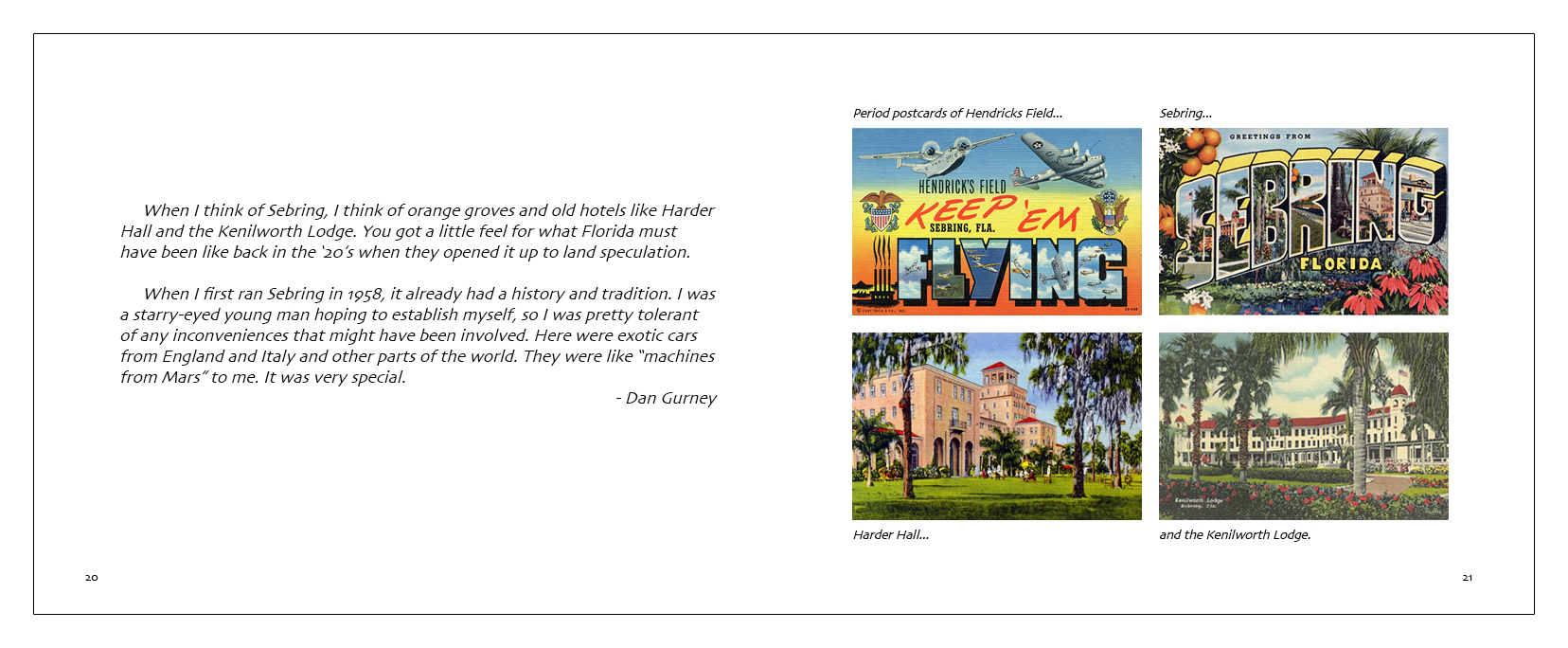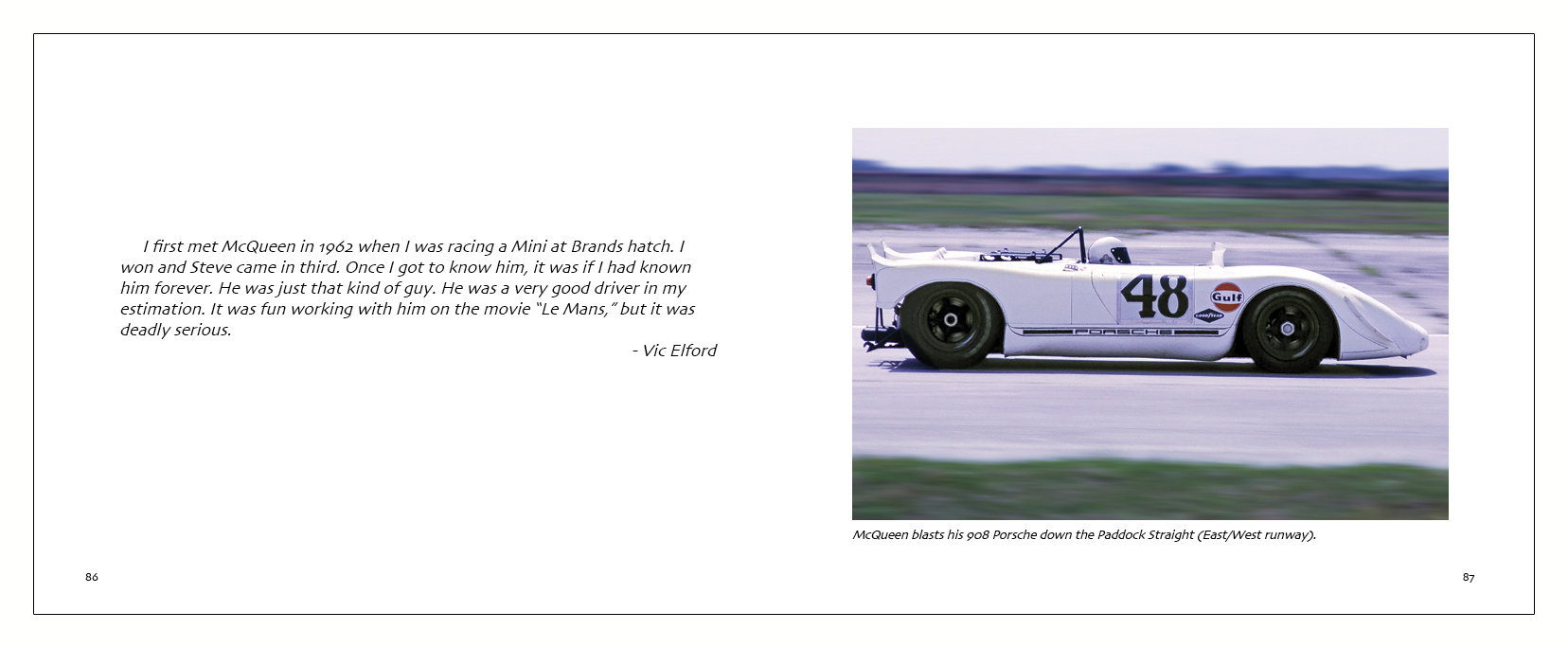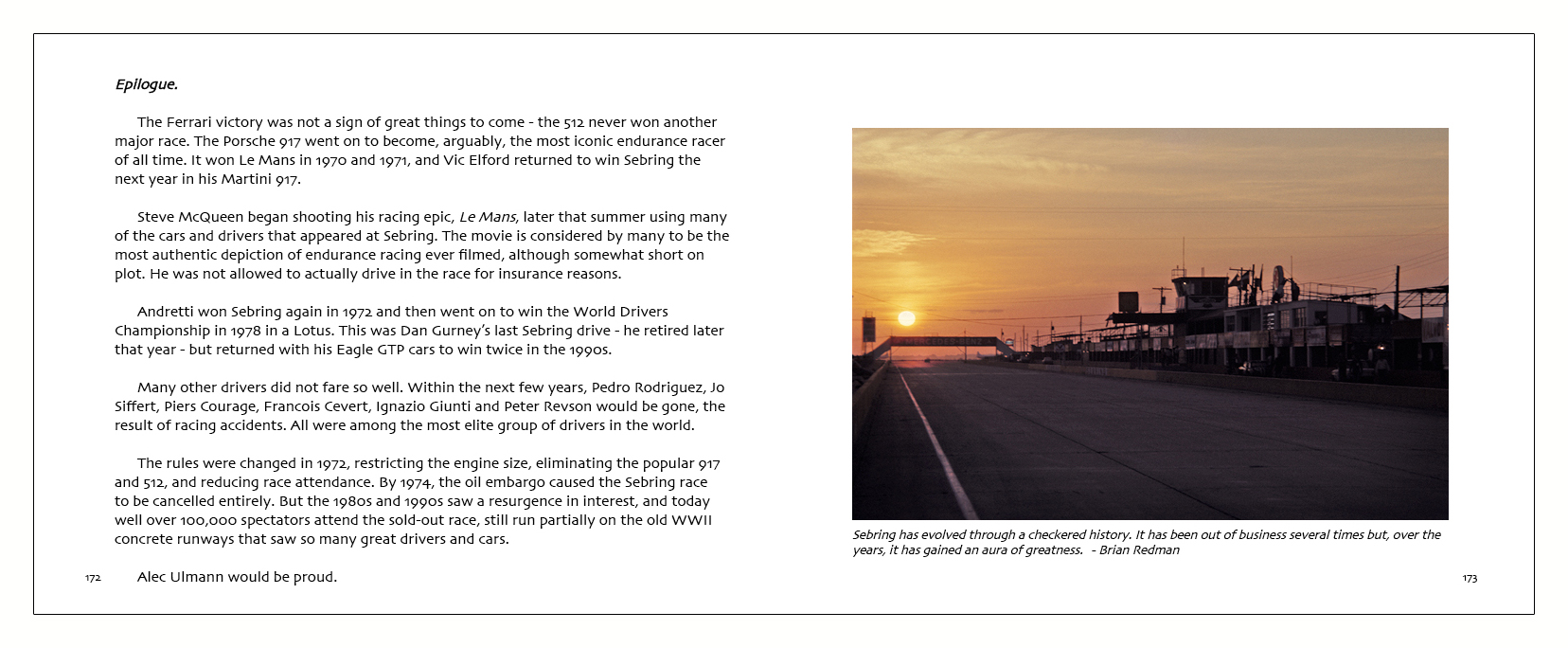 With the changing realities of the publishing industry today, we are printing this book in small quantities on a digital press. The quality is excellent and this allows us to be able to provide you with a real book experience at a reasonable cost. The book is being offered in a paperback and an autographed hardcover version.
Order yours today.
Note: Because of the prohibitive mailing costs, we are only shipping to addresses in the United States.
Showing all 2 results